New Delhi- Despite efforts by the government to increase crude oil production and reduce the country's oil import bill, India's domestic crude oil output fell to 32,173 Thousand Tonne (TMT) in 2019-2020, the lowest level of production in at least 18 years for which data is publicly available.
The last fiscal year's production was down six per cent as compared to 34,203 TMT of oil produced in 2018-19.
In March, domestic oil production declined 5.36 per cent to 2,701 TMT. The declining trend in production had pushed the country's crude oil import dependence to an all time high of 86.7 per cent in the April-February period of 2019-2020.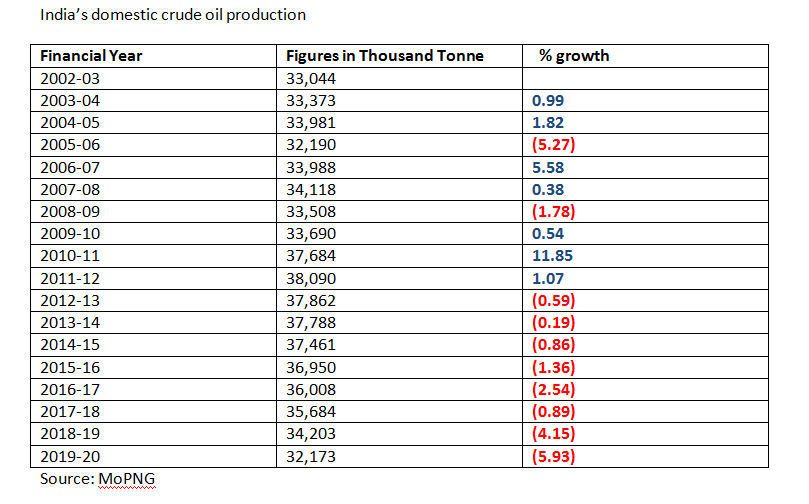 The oil ministry is yet to publish data on crude oil import dependence for the full financial year 2019-2020 and March 2020.
Prime Minister Narendra Modi had in March 2015 set a target for the government to decrease oil import dependence by 10 per cent by 2022. India's oil import dependence stood at 78.6 per cent in 2014-2015.
The government remains optimistic on meeting the target set in 2015. "To cut down import of crude oil, government has taken decisive steps towards reducing imports by 10 per cent and saving precious foreign exchange," Modi had said in January while inaugurating the Kochi integrated refinery expansion complex, according to a new report.
Oil minister Dharmendra Pradhan had recently indicated there may be a need to revisit the existing strategy if the goal to cut oil imports had to be met. "Our government had set a road-map on reducing India's crude oil import dependence by 10 per cent by 2022. We are developing a new strategy and initiatives to achieve this target," he had said speaking at an event here in January.
At least one analyst attributed the declining productiion to the long gap in auctioning of oil and gas fields in the pre-Hydrocarbon Exploration Licensing Policy (HELP) regime.
"Before HELP and DSF rounds, there was no action on licensing for Exploration and Production (E&P) for almost for nine years. The impact of this gap is now being felt in terms of falling production," Debasish Mishra, Partner, Lead-Energy, Resources and Industrials at Deloitte India told ETEnergyWorld.
Mishra added that the new policy measures around Enhanced Oil Recovery (EOR) as well as new oil and gas fields awarded under DSF and OALP rounds in the recent years will slowly start supporting domestic crude oil production beginnign next year.
India's two largest oil producing companies – Oil and Natural Gas Corporation (ONGC) and Cairn Oil and Gas – in media interactions earlier this month indicated that production during March and April 2020 is expected to take a hit due to logistics and demand issues.
Explaining the possible reasons behind the drop in output, a former chairman of a large Indian oil producer said upstream players had faced multiple issues last financial year.
"There have been multiple things at play even without factoring the Covid-19 impact. The North-East region was more impacted by the protest against BPCL privatisation and Citizen Amendment Bill (CAB) impacting Oil India's and ONGC's production from the region. Cairn Oil and Gas had been upgrading its assets throughout the year, it had a major planned shutdown in February, so their production has also been down to that extent during the year," he said, asking not to be named.
He also said E&P prospects in 2020-2021 look bleak as no company would aggressively want to increase production or get into high risk projects in a low oil price scenario.
ET Energy World